"How do we know that we are only hearing from our residents, and not the residents of another jurisdiction?"
In some situations, you'll want to ensure that you're hearing only from your residents. In other cases, you may want the input of those who work in your jurisdiction but don't live there (i.e. commuters), or those who regularly visit your jurisdiction (tourists, college students, people who visit businesses in your downtown, etc.). While we don't currently block non-residents from taking a survey, there are various ways on Polco to see only the results from your residents.
When local leaders want to ensure that they are hearing ONLY from residents of their jurisdiction, they'll want to use the features built into Polco to filter for these results.
There are a few ways to do this, and in this document we will walk through each one.
Registration & Voter File Verification
The default setting on Polco attempts to match respondents with public voter registration records when they include their full name and zip code.
When respondents answer their first questions on Polco, they are notified that they will be asked to set up an account with their zip code and email (registration) before they are able to submit their response
Asking for the respondent's email and zip code helps you build your panel of respondents, so those people are notified of future surveys. Once they have provided their email and zip code, they are asked for voter file verification information (full name and zip code). The name and zip code are used to attempt to verify that person using voter registration records (verification), giving Polco administrators additional demographic information such as gender, age range and voting district. This also helps us know where respondents are generally located (in or outside the city boundaries). Here is what this looks like to respondents:
Registration further helps ensure that participants are residents of the jurisdiction (beyond providing a zip code), and that they don't vote more than once per poll (already partly mitigated by providing an email address). Polco values respondent privacy and does not report individually identifying information.
Polco uses the respondent's input and a proprietary matching algorithm to find that individual within a local verification list (usually the voter registration database for the city).
By comparing verified results to unverified results, admins can get a better idea of the accuracy of their results and identify any potential issues. Typically about 60-70% of respondents are verified.
Registration ensures that registrants only respond to each survey once, reducing fraud and ballot box stuffing. It is rare that the same person makes the effort to register twice. Additionally, those respondents who are then verified give further confirmation of their residency.

Once your results are in, you can compare verified and unverified respondents by clicking on "Results" or "Advanced Results."
Add a Self-Reported Residency Question
If you know that you only want input from residents within the boundaries of your jurisdiction on a particular survey or poll, you can make the first question on the survey a self-reported description of location. This could be a multiple choice question that says "Do you live within the boundaries of Purcellville?" "Yes/No." Use conditional logic to end the survey for respondents who answer "No." This will function as an extra check to ensure that you're hearing from respondents within your jurisdiction.
Note that in larger metropolitan areas, some residents have a mailing address that is not actually within that city's jurisdiction (for example, unincorporated county areas). Those residents likely use the city's services, so their input is still valuable.
Filter by Location
Respondents to your surveys represent people both inside and outside your community, as well as both registered and unregistered voters. You may sometimes want to know how visitors to your downtown are spending their dollars in your jurisdiction or get input from hard-to-reach populations (like undocumented individuals and people who are not registered voters), among other use cases.
In order to see who is responding to your survey, or if you'd like to see only verified respondents or respondents within city limits, you can filter your result views.
Here's how: Click on your survey, then scroll down and click "Survey Results." Scroll down and on the top right you'll see Filters. Click "Change."

This allows you to see verified voters inside your community, those who are subscribed to your community, and all verified voters. This helps you see the subscribers within your city limits.

On the map of respondents, you'll see that people following your city's profile will be both from within and outside the city. If nearby cities are using Polco, you may notice that those people are included on the map. For example, if you wanted to do a downtown revitalization plan, you might want to know what the people in a nearby city think since you want them to spend money in your revitalized downtown.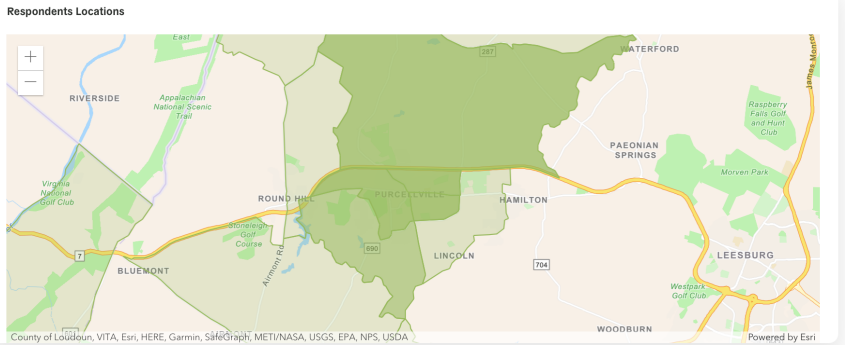 Add to Our Roadmap
We are currently planning to add more advanced features to Polco for resident location and cross-tabulations. You can expect to see our team launch these features in the coming months. You can vote here to move these features up in our product roadmap (just login with your Polco credentials). We strive to develop features on Polco that will help local government leaders get the input they need, so you can always submit requests and ideas. Thank you in advance for your feedback!
Articles for further reference:
The Power of Registration and Verification
Filter Subscribers by Location
How Surveys Appear for Respondents